Helena Erkkilä manages Ovako's steel mill in Imatra. On her direct, but also convoluted, path here, she has been able to try a lot of different things. She has developed, and has been able to work closely with both production and customers. It is precisely this that she sees as the advantage of Ovako – no two days are alike.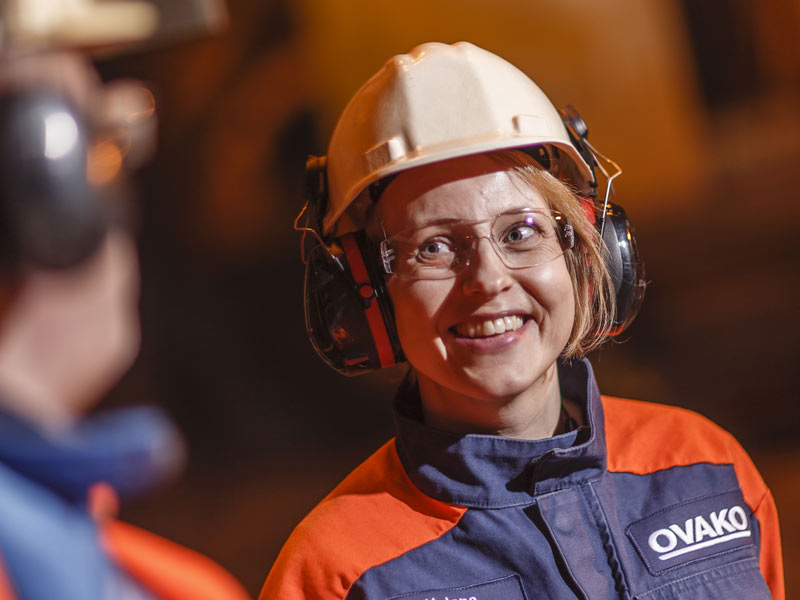 Few modern industries have traditions like the steel industry. Not that the steel business is a slow developer. Quite the opposite, if you ask Helena. Just a few weeks ago, she was head of the metallurgical research department at Ovako in Imatra. Today she is responsible for production at the steel mill. And before that she tried out a number of different roles during her 13 years at Ovako. It was her interest in technology that attracted her to the industry from the beginning. She applied to the University of Oulu after high school and studied for an MSc in metallurgy. After graduation, she worked at the university as a researcher.
"In that role, I took part in several development projects with the business community. It was through one of these collaborations that I came into contact with Ovako for the first time."
Through project colleagues, she found out there was a vacancy at Ovako's research and development department in Imatra that suited her background. What she liked the most was that she would get to work closely with production again, who started in a job as a metallurgist in the steel mill. She felt welcomed right from the start, both at Ovako and in Imatra.
"It may have been an advantage that I was the first female metallurgist to start working with production here," laughs Helena. "But all the friendly people made me feel welcome."
She started working with refractory materials such as brick, masses and special components. Since the ladles are made of steel, they need to be strengthened with particular kinds of brick and mass to resist the liquid steel.
"I became a specialist in the field, and also worked with steel manufacturing in the electric arc furnace. Since there aren't very many people at Ovako in Imatra working in this field, I was given a broad area of responsibility. In a larger company, I would have had a narrower field with more specific expertise. The fact I can work in so many different areas, and closely with our customers, means no two days are alike."
"It's very rewarding to work closely with talented employees who come up with new ideas that lead to discussions with everyone involved. And when you work with customers you have to know what they need and what they want. This is particularly true when you manufacture steel for demanding applications, as we do."