Moa works as Head of Safety in Boxholm and is also responsible for operational development. Her job is to manage future safety initiatives and to work with development projects. Moa joined Ovako in the summer of 2014 after rather randomly coming to Hällefors via Ovako's Student Program, which involved her writing her thesis on Ovako. The Student Program was Moa's way in and, since she has been so happy with the company and the company with her, her career path at Ovako has continued both onward and upward.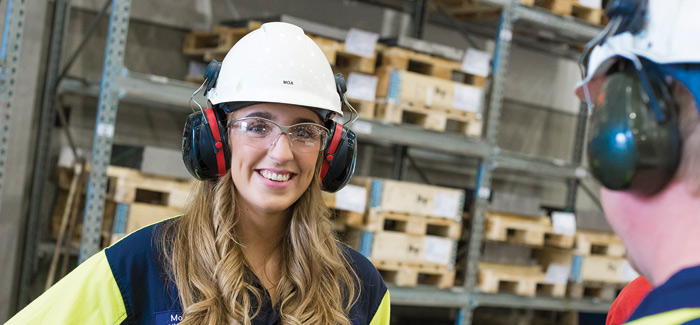 What attracted you to Ovako?
The first time I came in contact with Ovako was at a trade fair up in Luleå, where I was studying for my Engineering degree. I didn't know much about Ovako – which isn't strange considering that Ovako concentrates more on companies than on private individuals. Even so, Ovako stood out from the others at the trade fair. I immediately got a good feeling about the company and decided to apply to Ovako's Student Program. I've felt very welcome at Ovako since my very first day.
I've worked within industry before, but that was at a small company that manufactures steel components using Swedish-developed pressure heat treatment technology. Ovako's production is totally different – it's cool and interesting and I love rolling mills. The company provides challenges as well as a sense of security – both at the same time!
What is a normal working day like for you?
My days are really varied, and may entail updating procedures and governance documents, taking part in audits, gathering statistics, conducting risk analyses, working with Lean tools and planning and holding training sessions. Everything I do involves people, and I really value being involved in production – there's so much expertise there – and I think it's important to combine theory and practical experience in order to understand, learn and develop as much as possible.
What's the most fun about your job?
Meeting so many people and learning from them – there's an incredible amount of expertise and valuable knowledge at Ovako!
The most important thing for me is working with something that inspires me and having a strong work ethic. During my time at Ovako I've come to realize, step by step, the things that I think are most exciting and stimulating. As I've said my journey here began with my thesis – and after that I was offered a job where I got to apply the results of my thesis and provide support to the safety department. I've always been highly interested in machines and new technology, so when I was offered a job as project manager and engineer in the technology department I didn't hesitate for a second. I found that it was the combination of quality and safety work that I was most interested in, so the decision was easy when I was asked to come to Boxholm and work with this in the long term.
During my time at Hällefors I'd visited Ovako's division in Boxholm and marveled at the relaxed, pleasant atmosphere there. My reception at Boxholm was better than I could have ever expected, and I'm so glad that I took the opportunity to continue my professional life in Boxholm.
What do you do when you're not working at Ovako?
I like to keep active and exercise – at the gym, on the ski slopes, running, climbing and playing floorball with the women at the Boxholm/Mjölby Floorball Club. I also like to travel, socialize with friends, spend time outdoors – and eat popcorn while watching good movies. Who doesn't like that?