Selecting pre-machined components is often a costeffective solution. It allows you to eliminate your own stockholding, crosscutting and machining. It opens up new potential to simplify production and to cut production costs, not least by converting fixed to variable costs.
Today, Ovako has comprehensive resources for manufacturing pre components in various grades of machining. Our pre-components are produced with close tolerances combined with a high, even level of quality. Pre-components from bar can be produced from hotrolled, peeled, ground or drawn bar. All of these executions are available in a wide range of sizes and steel grades and in both round bar and profiles.
Chamfered or blanks with radius
Sawn off and chamfered according to customers' specifications. Our standard chamfer angle is 45° and we can customize chamfering and radius according to our agreement with you.
Size range: 20 to 105 mm diameter
Lengths: 35 to 1,900 mm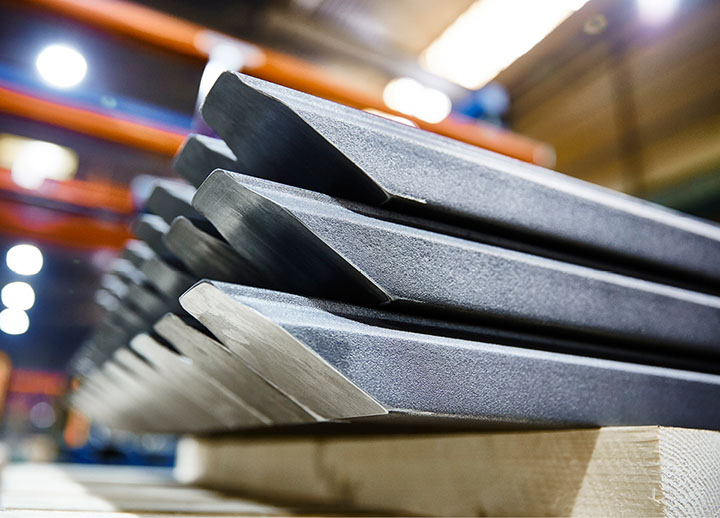 Centre-hole drilled blanks
Blanks with sawn end surfaces, centre-drilled to customers' specifications.

Size range: 20 to 105 mm diameter
Lengths: 35 to 1,900 mm
Cut blanks
Length tolerance, mm at length, mm
| | | | |
| --- | --- | --- | --- |
| Size mm | L ≤ 400 | 400 < L ≤ 800 | 800 < L ≤ 1600 |
| 20–100 | 1.0 | 1.4 | 2.0 |
| 100.1–160 | 2.0 | 2.5 | 3.0 |
Special tolerances can be provided by agreement.
Precision-cuts
Eliminate your non-core processes and improve profitability with Ovako precision-cuts. Our precision-cut offering includes just-in-time, or flexible, delivery and provides "greener" processes. Ovako's precision-cuts are made from peeled, ground or drawn bar and available in a wide range of sizes and more than 60 steel grades in our bar portfolio. Our offering includes chamfered blanks, centre-hole drilled and cut blanks.
Precision-cut quality
We offer secure and exact machining precision that can be tailor-made to your specifications. This includes customized rounded or chamfered radii. We deliver precision-cuts within close tolerances and a high, consistent product quality. Our length tolerances are +/- 0.05 mm, compared with the standard +/- 0.5 mm. Other specific tolerances can be arranged by agreement.

Our precision-cuts are subject to rigorous testing and pre-production approval processes. Testing covers dimensional measurements, mechanical properties and isotropic qualities. We can guarantee the right quality, not the most expensive one, to meet your needs.
Efficient production
By using the Ovako precision-cut offering you can eliminate up to three of the following processes, and their associated costs:
Measuring and cutting to exact length
Chamfering
Machining of radius
Centre-hole machining
Why not take advantage of our just-in-time delivery or ensure flexible delivery amounts to suit your needs. The amount ordered can range from one piece to an unlimited amount. We deliver within 48 hours through a logistics agreement.

Digital Support Tool - Steel Navigator
With Ovako's Steel Navigator, finding the right clean steel has never been easier. Search by material properties, applications or end products. Compare with standard steels. And calculate machine settings to save time and increase tool life. Our digital Heat Treatment guide even helps you save time and money by predicting how a specific steel grade composition will perform after heat treatment. Whatever your application, our web-based steel selection tools let you explore hundreds of high quality steel products to find the right match for your specific needs.
Find out more at Steel Navigator
Register to Ovako´s newsletter