In the oil and gas market, there are exceptional demands on components, equipment and materials. Ovako is a supplier of steel that meet these demands in both upstream and midstream applications such as tubulars in drilling, completion and production systems, fasteners for BSL 1 to 3 requirement, mooring chains up to grade R5, and of course drill bits as rock drilling is in general one of our key solution areas.
The range of steel grades, properties and shapes is a key element in what Ovako can do for this trade. Whether it is our new steel grade family of Hybrid Steel, that offers opportunities with a higher performance in corrosive environments and that is less sensitive to hydrogen uptake, or our range of SZ-Steel, particularly suitable for extra high demands on impact toughness in combination with high strength, at low temperatures.
These and all our other steels are ideally suited for demanding applications, thanks to their excellent yield, tensile and high impact strength, uniform mechanical properties, good machinability and weldability.
In addition to the Ovako range of products, the Nippon Steel Corporation Group offers a wide range of additional opportunities.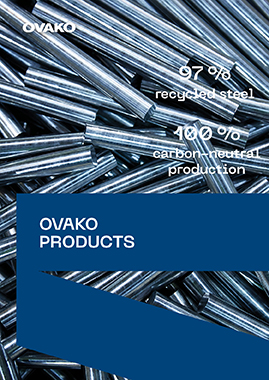 Product Catalog
Download PDF
Digital support tool - Steel Navigator
With Ovako's Steel Navigator, finding the right clean steel has never been easier. Search by material properties, applications or end products. Compare with standard steels. And calculate machine settings to save time and increase tool life. Our digital Heat Treatment guide even helps you save time and money by predicting how a specific steel grade composition will perform after heat treatment. Whatever your application, our web-based steel selection tools let you explore hundreds of high quality steel products to find the right match for your specific needs.
Find out more at Steel Navigator