Ovako supplies different grades of boron steel for agricultural parts and attachments, such as plows and many other products where wear resistance is a critical issue. Our family of the highest performing wear resistant steels is called WR-Steel, and within this range we have ideally suited solutions to wear challenges in agriculture. Even in small quantities, boron alloying significantly increases the hardenability of steel, allowing lower contents of carbon and other alloying elements.
With Ovako boron steel our customers can benefit from a low hardness in the rolled condition, with good formability and weldability to produce the components. A good combination of high tensile strength and toughness can then be reached after quenching and tempering.
Ovako supplies a wide range of products such as flat hot-rolled bars and profiled bars. This, in combination with the proven superior wear resistance of our steels, makes it possible to construct industry leading products for the most demanding agriculture applications. In addition to the Ovako range of products, the Nippon Steel Corporation Group offers a wide range of additional opportunities, including the ABREX plate range of products.
Digital support tool - Steel Navigator
With Ovako's Steel Navigator, finding the right clean steel has never been easier. Search by material properties, applications or end products. Compare with standard steels. And calculate machine settings to save time and increase tool life. Our digital Heat Treatment guide even helps you save time and money by predicting how a specific steel grade composition will perform after heat treatment. Whatever your application, our web-based steel selection tools let you explore hundreds of high quality steel products to find the right match for your specific needs.
Find out more at Steel Navigator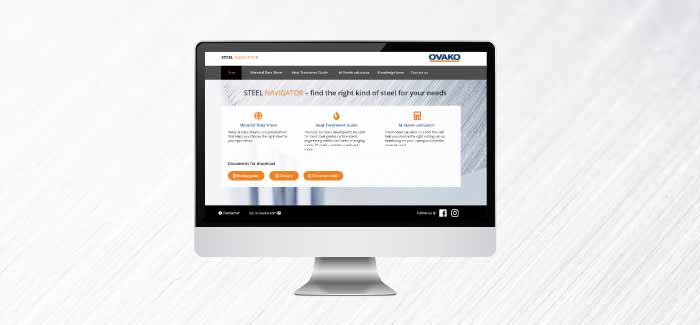 Ovako tillhandahåller olika grader av borstål för jordbruksdelar och verktyg, som plogar och många andra produkter där slitstyrka är av fundamental betydelse. Vår stålfamilj med de mest högpresterande och motståndskraftiga ståltyperna kallas för WR-Steel och inom detta sortiment har vi perfekt lämpade lösningar för slitstyrka inom jordbruk. Även i små kvantiteter ökar borlegering stålets härdbarhet betydligt, vilket möjliggör mindre innehåll av kol och andra legeringselement.
Med Ovakos borstål kan våra kunder dra nytta av låg hårdhet i valsat tillstånd, med god formbarhet och svetsbarhet för tillverkning av komponenter. En bra kombination av hög brottstyrka och seghet kan då uppnås efter seghärdning.
Ovako erbjuder ett brett utbud av produkter som platta varmvalsade stänger och profilerade stänger. Detta, i kombination med den bevisat överlägsna slitstyrkan för vårt stål, gör det möjligt att tillverka industriledande produkter för de mest krävande jordbruksanvändningsområdena. Utöver Ovakos produktutbud erbjuder Nippon Steel Corporation Group ett brett sortiment med ytterligare möjligheter, inklusive det pläterade ABREX-produktsortimentet.