Wind power installations are subject to very harsh conditions due to changing weather and load conditions. This means that the reliability of the steel solutions is particularly critical and, for many of the components, fatigue life is a major consideration. The cleanness of Ovako's BQ-Steel and IQ-Steel meets the performance demands of items in the transmission of wind power turbines, either in bearings or other parts of the powertrain. Making the right steel selection will help to minimize levelized cost of energy from lower maintenance cost and maximise uptime.
Ovako has a wide range of high-performance steel products, which means that we can offer the right product for most power train applications and rotating elements. Our steel is used when extra performance is demanded, typically for parts in gearboxes and transmissions. We can offer our customers an edge when it comes to properties such as cleanness, formability, machinability, high fatigue strength or hardenability. Our production systems are designed to meet the customers' requirements for product optimization. We also have the resources for manufacturing pre-components in various stages.
Ovako has expert knowledge of the demands on hydraulic applications within the wind power industry. We offer special solutions even for the most difficult conditions. We deliver special steel in the shape of bars and tubes for hydraulic pitch drives and components in the wind turbines. Our chrome plated bars are used in pistons.
Wind turbine construction requires connecting elements and fasteners in order to anchor the wind turbine to the ground, to assemble the modules of the tower and to fasten the wings to the body. Ovako supplies steel for the manufacturing of bolts, inserts and, in case of offshore wind turbines, anchoring chains.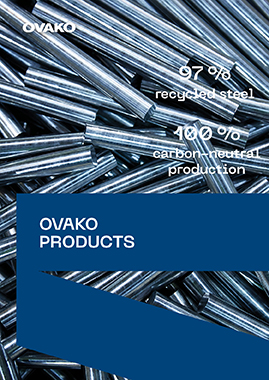 Product Catalog
Download PDF

Digital Support Tool - Steel Navigator
With Ovako's Steel Navigator, finding the right clean steel has never been easier. Search by material properties, applications or end products. Compare with standard steels. And calculate machine settings to save time and increase tool life. Our digital Heat Treatment guide even helps you save time and money by predicting how a specific steel grade composition will perform after heat treatment. Whatever your application, our web-based steel selection tools let you explore hundreds of high quality steel products to find the right match for your specific needs.
Find out more at Steel Navigator