Cromax C®
Having served hydraulic system manufacturers in a range of applications, we know that no two operating environments are exactly alike. Many demand components that can withstand harsher conditions that risk penetrating even a high-quality single chrome layer. This is why we created Cromax C, a series of double-chromed ready-to-use bars that provide twice the protection against penetration and pitting of the underlying steel.
The interface between the two chrome layers work as a barrier that prevents macro-cracks to propagate through to the base material. This design enables operation under harsh environmental conditions and applications where the cylinders remain unused for longer periods.
Cromax C guarantees AASS 100 hours rating 9 (ISO 9227 AASS). This is verified and certified in accordance with EN10204 certificate 3.1.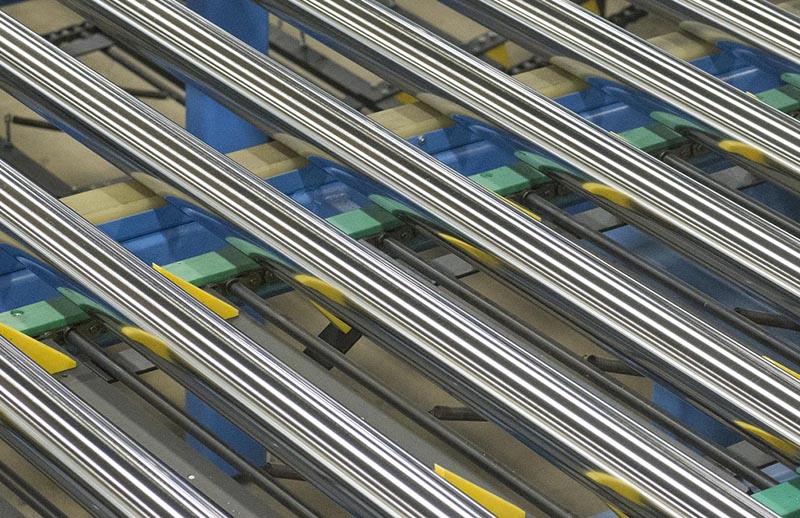 NiKrom™
For extreme environmental conditions, Ovako offers the duplex layer of nickel and hard chrome, known as NiKrom. In the NiKrom process, steel bars or tubes are first coated with a layer of corrosion resistant nickel, followed by an outer layer of hard chrome. The combination of the anti-corrosion characteristics of nickel and the favourable surface properties of chrome results in a rod material exhibiting outstanding corrosion resistance where function must be guaranteed in long-term usage or long periods of storage.
As the softer, more ductile and crack-free nickel layer is stable during time and when mechanical stress is applied, the nickel layer will fully compensate for the inevitable crack-propagation in the chrome-layer.
NiKrom is used in all applications with aggressive atmosphere such as mining, offshore or chemical plants, but also where rods are exposed for long periods of time, e.g. tailgate lifts, snow ploughs or ski lift systems.
NiKrom 500, or Socatri 1500 (USA), has a minimum 30 µm nickel layer and carries a guarantee that the product will withstand 500 hours in acetic-acid salt spray (ISO 9227 AASS) or 1500 hours in neutral salt spray (ISO 9227 NSS).
By special agreement, a nickel-chrome-plated product with a 10 µm nickel layer can be supplied, NiKrom 150. For this, the corrosion guarantee is that the product will withstand 150 hours exposure of acetic-acid salt spray (ISO 9227 AASS) or 500 hours in neutral salt spray (ISO 9227 NSS).

Digital Support Tool - Steel Navigator
With Ovako's Steel Navigator, finding the right clean steel has never been easier. Search by material properties, applications or end products. Compare with standard steels. And calculate machine settings to save time and increase tool life. Our digital Heat Treatment guide even helps you save time and money by predicting how a specific steel grade composition will perform after heat treatment. Whatever your application, our web-based steel selection tools let you explore hundreds of high quality steel products to find the right match for your specific needs.
Find out more at Steel Navigator
Register to Ovako´s newsletter