Ovako's SR-100 Wire is a surface removed and inspected wire that increases the quality of the finished product. Sometimes the surface of rolled base materials is sensitive to cracking and decarburisation, which can have a negative effect on the production economy of the finished product. In the production of SR-100 Wire, we remove surface defects and carry out a 100 percent automatic inspection of the surface.
Ovako offers wire that meets most requirements for high-grade structural steel and bearing steel. The steels we use for our wire are characterised by high consistency of analysis and cleanliness. As a rule, our wire is manufactured in accordance with specifications established by our customers. Tolerances and dimensions are adapted to the demands of the finished product and its manufacturing routines.
SR-100 Wire is produced in any size within the diameter range 11 to 26.5 mm. By agreement, SR-100 Wire can be supplied with surface treatment: zinc phosphated, soap coated and/or oiled.
Reducing global CO2 emissions demands smarter product solutions and requires rethinking on many levels: more performance benefits per kilogram of product, less raw materials, and substituting fossil fuel energy sources with primarily fossil-free electricity. Read more about Ovako's path to carbon neutrality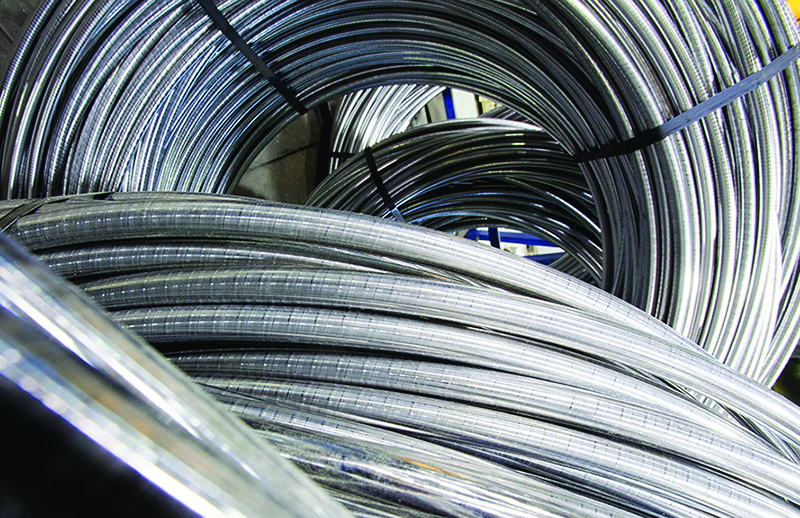 Advantages of Ovako's SR-100 Wire
Better economy of production
Fewer quality complaints

Digital Support Tool - Steel Navigator
With Ovako's Steel Navigator, finding the right clean steel has never been easier. Search by material properties, applications or end products. Compare with standard steels. And calculate machine settings to save time and increase tool life. Our digital Heat Treatment guide even helps you save time and money by predicting how a specific steel grade composition will perform after heat treatment. Whatever your application, our web-based steel selection tools let you explore hundreds of high quality steel products to find the right match for your specific needs.
Find out more at Steel Navigator
Register to Ovako´s newsletter